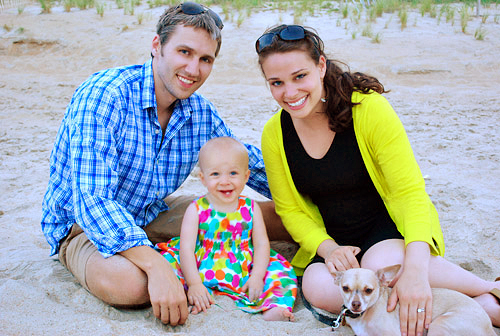 Have you ever thought of something so much it starts creeping into your dreams? It happens to me all the time. Last night was no exception. Apparently I've been reading so much Young House Love lately that John and Sherry Petersik have become dream worthy. Don't get me wrong Sherry is incredibly dreamy (John I hope you know how gorgeous your wife is), but the fact that I'm dreaming about blog authors definitely reaches new heights as far as my weird dreams are concerned.
For those of you that have never heard of Young House Love it's a blog about a young couple and their DIY home remodeling experiences. I was already a regular reader but what really got me hooked was their recent week long blogiversary. In celebration of their 4th year of blogging John and Sherry gave us insight into their process and all the things they've learned along the way. I'm incredibly intrigued by those currently running successful (lets define this as 'making a living' from) blogs and so I found these posts to be particularly interesting. It also made me feel like I knew John and Sherry a little better (enough, to dream about them apparently, lol).
In my dream (bare with me, some of the details are a bit fuzzy) John and Sherry were hosting a friend's wedding at their home. It must have been during the Pre pre-planning stages. The wedding theme hadn't even been established yet though I recall seeing a list with possible choices that included: Skype (no friggen clue), Under the Sea, and New York City. I was asked to pick a theme and design the invitations, table numbers, and other decor. I don't know if it was a contest, but I clearly remember the sense of excitement and looking forward to "winning".
It was late in the evening, around 8 o'clock. We must have just finished dinner. Sherry was washing dishes and John was lounging. It was the three of us plus one other person, a friend of theirs. We were drinking wine and having fun lively conversation. All of us were a little tipsy and discussing John's tattoos. He had two: "Just like her father" which was a self explanatory (yet totally abstract looking) tattoo about Clara, and another which related to a trip to Mexico and had a sombrero in it. Wait, what's this? John also had a huge chest piece tattoo? Yup! "Honey! Oh my gosh, you do have three!" Sherry said surprised as they had totally forgotten about it. Ironically this tattoo was the biggest and I can't remember what it was of.
I finished my glass of wine and looked for more in the fridge. No dice. "Hey John, where do you guys keep the wine?" he gave me this look as if to say "In the wine fridge, duh!" I wonder if they actually have a wine fridge. They'd be the first people I've met (lol sort of) with one.
My friend, and amazing hairstylist, Leeann showed up shortly afterward. I assume it was to help with the wedding. That's when I was abruptly woken up by my Siberian husky, Cuba. She was barking to let me know it was time to go out.
I'm not entirely sure what the point of the dream was. I think part of me really wishes I had crafty friends close by to drink wine and DIY with. Maybe I just wish someone would help me remodel my new home, OR maybe Young House Love is just that awesome of a blog! Who knows? If I happen to figure it out I'll be sure to let you guys know. :)